1 DAY JINJA WHITE WATER RAFTING SAFARI
1 day Jinja White water rafting is one of the most Exciting activities while on the Ugandan tour. This is either a half or full day activity usually done at the source of the Nile in Jinja. This is usually a one day activity involving use of a lot of energy.
Itinerary details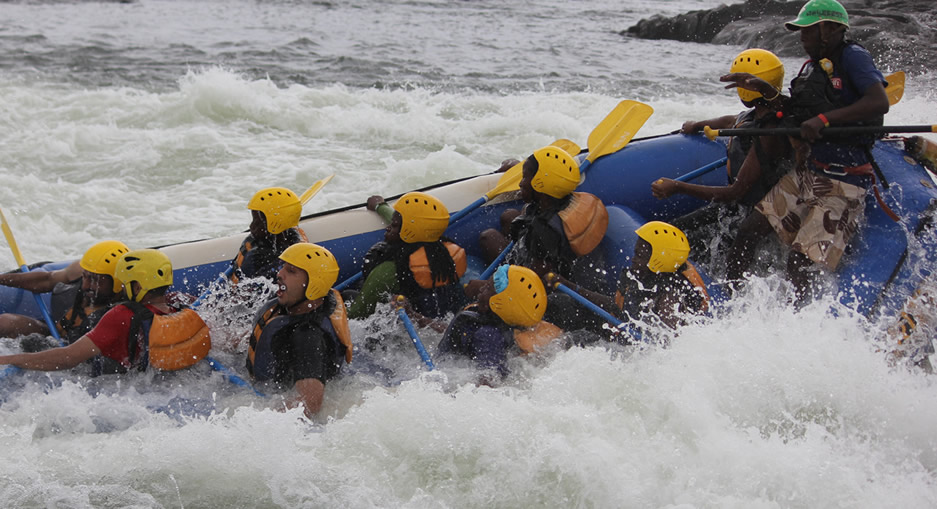 After having an early breakfast, you depart from Kampala city to Jinja. The journey takes about 2 hours. While on your journey to Jinja you will get to see Mabira which is Uganda's largest rain forest. Mabira has a lot of birds and some primates, a stopover at the forest during the return of the journey is always recommended for birders (optional)
Meet up with the rafting team in Jinja and attend a briefing session after which you get into the vehicle and drive to the starting point where you will be taken through a brief experience to familiarize yourself with the rafting experience. Make your choice between grade 3 -5 rapids and begin your adventure. Rafting on river Nile lasts between 1-3 hours and its always celebrated with a cold Nile bottle of special beer at the end. You will then be dropped off at your hotel in Kampala or Entebbe airport for your onward flight.
White water Rafting: White water rafting is one of the most popular adventurous activities in Jinja. The white water rafting experience in Jinja is said to be of the highest quality in Africa because it has several grade 4 and 5 rapids. Most of the rafting is done at the Kalagala and Itanda falls. White water Activities in Jinja rafting in Jinja involves maneuvering through strong waves and rapids using tube boats (filled with air) on the mighty Nile. While rafting on the waters of the Nile, participants pass through some breath-taking scenery and landscape along the margins of the river. There are also the wildlife species like birds, monkeys, butterflies and vegetation. Every rafter is given a life jacket and other rafting equipment. There is a rescue team in case of any issue that may arise during the rafting experience. A separate group of experienced rafters are there purposely to take photos of every participant so that no moment is lost. There are two white water rafting packages offered – half day and full day. The half day rafting package costs around $125 per person and the full day package goes for about $270. The main organizers of white water rafting are Nalubale rafting, Raft Uganda and Adrift Uganda.  The activity can also be booked through any reputable tour company in Uganda.